TVR Trader
Welcome to the TVR Trader, the classified ads for the TVR Car Club of North America. Listings in the TVR Trader are free of charge to TVRCCNA members. For non-members, the cost is $10.00 for 1 year of online listing and publication in 4 quarterly issues of the TVR Times. Contact Chuck Linn by phone at: (248) 652-9099 or e-mail tvrtrader@tvrccna.org with your ad content, or if you know any of the cars or parts have been sold. Paypal payments can be sent to tvrtrader@tvrccna.org or you can write a cheque payable to TVRCCNA and mail it to TVR Trader, 1610 Rolling Oaks Rd., Rochester, MI 48306.
Cars for Sale | Parts for Sale | Wanted
---
Cars for Sale:
1990 TVR S2
Posted:
21 June 2014
Serial #:
Price:
CDN$27,500
Location:
Georgian Bay, Ontario, Canada
Contact Info:
Bill
- 705 445 6127
Description: 1990 TVR S2
Engine – Ford 2.9 liter V6
Five Speed Manual Transmission
88,438 kilometers (54,953 miles)
Original Azure Blue paint – Magnolia Leather Interior – Blue Convertible top
Purchased from TVR North America in October, 2008.
Previously owned for a number of years by Dave Graham – well known TVRCCNA member.
Always Garaged
Recommended Service carried out in timely manner
New Tires -Michelin Primacy Mx4 90H 205/60R15
New Battery
Panasonic late model Stereo System
Very Nice Road Car
---
1986 TVR 280i Series 2 and 1984 TVR 280i Series 1
Posted:
23 March 2014
Price:
$4,000
Contact Info:
Barry Rowe
Location:
Central Illinois
Description:
2 TVR280i parts cars:
1986 280i series 2. Body rough with right side crazed. "Cream" color, tan interior, good engine, good 4 speed trans, good suspension, broken windshield. Mostly complete original interior needs work. Frame has some rust problems. Complete top. 5 good wheels with good tires. Clear title.


1984 Tasmin 280i. Good body but needs paint. Good frame and suspension. No engine, good 4 speed transmission mostly complete original interior. No top, no passenger side window, no windshield. No front spoiler nor rear facia. No title. 5 good wheels with good tires.
I want to sell them as a pair, but might be talked into selling them separately. I had meant to put them together in 1 car, but have too many projects.
---
1985 TVR 280i
Posted:
20 January 2014
Price:
$9,995
Contact Info:
Peter Sweeney
- Phone: (860)350-1140
Location:
Gaylordsville, CT
Description:
1985 TVR 280i blue with a blue interior. 50,000 miles. Manual transmission. High quality professional repaint and interior redo with glass rear window. Excellent cosmetic condition. Very strong running car. Feels great on the road. Complete owners manual set. More photos can be found at:
www.forzamotorsports.com
. Located about 75 miles north of New York City in Northwestern Connecticut.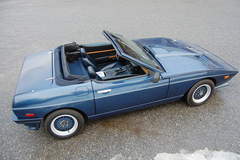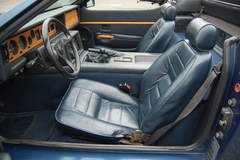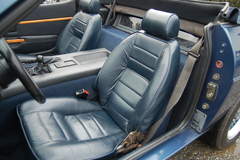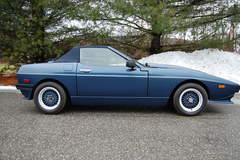 ---
1985 TVR 280i Series 1-1/2
Posted:
1 July 2014
Serial #:
TV9RF28P8FBDH1324
Price:
$6,000
Location:
Sterling, VA
Contact Info:
Hayden Olenik
Description:
I'm looking to sell my 1985 TVR 280i Series 1-1/2 (the usual problem: 3 TVRs plus 2 daily drivers, and only a 1 car garage). I purchased the car in 2009 from Florida to drive while I finished my 2500M and the car ended up needing a bunch of work to be safely driveable. I've performed extensive repairs to the electrical system (replacing burnt/melted wires, cleaning switch contacts, and adding central locking), TVR factory-certified (from back when TVR sold cars in the US) mechanic Jesse Bogan went through the mechanicals, and I put new 205/75R15 tires on the original (rare) 15" rims. At this point car is mechanically sound other than non-functional A/C (A/C was removed when I bought it but I have all of the parts to reinstall other than hoses and a moisture separator), and the car could use paint and trim. Paint looks fine at a distance or when wet, but shows some oxidation up close. Car has the original biscuit (tan) interior; I installed Miata seats to stretch out its life but I have the original seats as well. Unfortunately I'd rather spend the paint money on repainting my 2500M so I thought I'd see if someone else would like to pick up where I've left off. Car runs and drives great, ready for someone to take the next step to a finished restoration.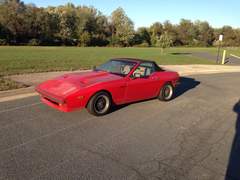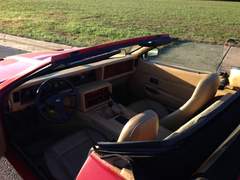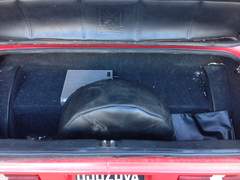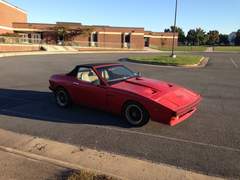 ---
1985 TVR Tasmin 280i in excellent condition. Engine number 1516:Body code 333H
Posted:
15 December 2013
Price:
$10,250
Contact Info:
Mark Ospala
- Phone: (201)724-3914
Description:
Unmolested original condition. Everything works including the air conditioning. This lovely TVR runs well and starts easily. Was somewhat dormant over the last 4 to 5 years having only covered around 500 miles during that time. Since I purchased it, I have driven it regularly whilst doing some of the work described below. The more I drive it, the better it gets! It has the targa top configuration where the main rigid top can be removed and stowed in the trunk with the cover (in great shape) and either leave the rear section up to minimize wind or lay it down as a full convertible. The rear window in is excellent clear condition. The stereo installed is a late 80's vintage top end stereo with serious speaker and a woofer (which I have not yet tackle diagnosing why it doesn't work). The stereo works anyway on the two rear mounted speakers. The wood dash over the instruments and glove box is in very good condition with some minor surface cracks on the glove box door only. It is equipped with a/c and it works! Has electrical system cut off for use when car is not in use.
Recent work - replaced handbrake lever, now fully operational; replaced clutch slave cylinder; new fuel filter and fuel accumulator, new speedo cable, newlight switch Still to resolve - grounding for temperature gauge and dash boardlights. the carpets need replacing and I am waiting delivery of the new carpet set that I will include with the car for the new buyer. Paintwork is in excellent condition with few minor blemishes/nicks. The front spoiler on the passenger side will need minor repair. This TVR is comfortable and has been proved reliable since I have owned it. My last trip was to a car show about a hundred miles away and it cruised beautifully and returned 25 mpg. I am British and have always had passion for TVR's and this is my second one. The only reason for selling is that I have too many cars and need to focus on finishing the others that came before this car and the money from this will fund those other items. Thanks!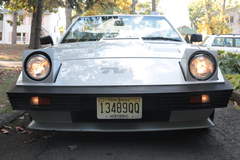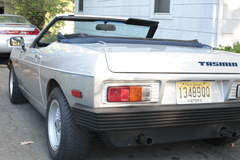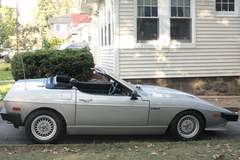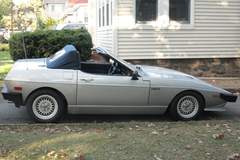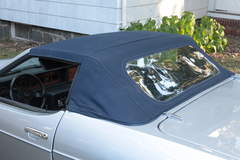 ---
1985 TVR 280i
Posted:
1 September 2013
Price:
$6,000
Contact Info:
Scott Bamford
- Phone: 716-689-9655
Description:
1985 280i, convertible, 4-speed, white with black top, red leather interior, 35,400 miles, good condition, runs great, second owner (25 years).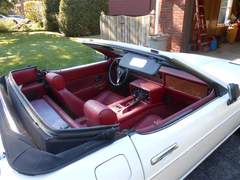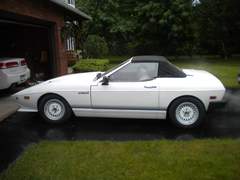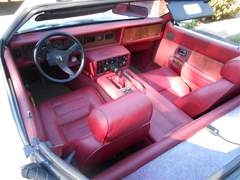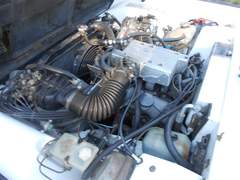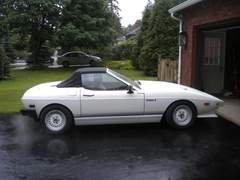 ---
1981 TVR Tasmin Convertible
Posted:
12 January 2014
Price:
$20,000
Contact Info:
Raymond Nichols
- Phone: (250) 390-1134
Description:
I have a 1981 TVR Tasmin I want to sell. The second car built in July of 1981. Euro spec 2.8 litre German Ford engine. Bosch fuel injection, 160 HP, also lighter than the US spec cars. Excellent Michelin tires on special rims, also have the original set, glove soft leather seats, Solid mahogany trim inside. Great car to drive.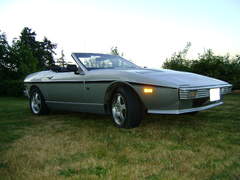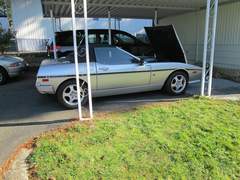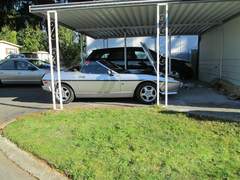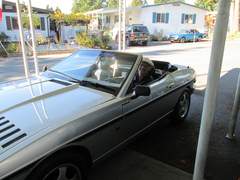 ---
1976 TVR 5000M
Posted:
21 June 2014
Serial #: 3627FM
Price:
CDN$42,500
Location:
Georgian Bay, Ontario, Canada
Contact Info:
Bill
- 705 445 6127
Description:
1976 TVR 5000M S/N 3627FM
COMPLETE BODY OFF "NUT & BOLT" RESTORATION
CHASSIS
Chassis was completely stripped, inspected, cleaned, polished and Powder Coated.
Suspension Arms stripped, inspected, cleaned, polished and Powder Coated
Urethane bushings all round
New SPAX Dampers and Springs
New Stainless Steel Brake Lines
New Ball Joints and Tie Rods
Rear Hubs Rebuilt with New Bearings and Seals
ENGINE
1987 Ford Mustang 302 cu in (4.9L), Cast Iron Block, Cast Iron Heads, Overhead Valves, Wet Sump Oil System.
Engine restoration consists of, but not limited to - installation of reconditioned Crankshaft, all new Crankshaft Bearings, all new Connecting Rod Bearings, new Heavy Duty Oil Pump, new Timing Gear and Chain Set, new Heavy Duty Roller Lifters, new Water Pump, new Custom Heavy Duty Radiator with twin fans, new Edelbrock Intake Manifold, new Edelbrock 600cfm Carburetor, new Electric Fuel Pump plus all new accompanying gaskets, pulleys/belts, and engine operating accessories.
CLUTCH
New Clutch Assembly unit attached to newly machined Flywheel.
TRANSMISSION
1987 Ford Mustang TREMEC T5 Transmission which has been completely overhauled - installing new input shaft seal, new output shaft and seal, second gear synchro and hub, plus replacement of necessary gears and seals to complete overhaul.
DRIVESHAFT
Driveshaft fitted and Balanced to accommodate T5 Transmission
DIFFERENTIAL
TVR 3:15 differential with new Pinion Seal
WHEELS AND TIRES
Four ROTA RB Wheels [15x7JJ] 15" (Mini Lite 'copy') in excellent condition
Four Brand New Michelin MXV4 94 H tires 215/60/R15 installed and balanced
One Spare Tire & Wheel (Black Painted Steel) and Spare Tire Cover
EXTERIOR BODY
Exterior painted 'Italian Red'
Body Tub, Front Bonnet Assembly and Doors completely stripped of all paint
Fiberglass repaired as necessary
All surfaces Block Sanded
Three Coats Hi-Build Primer
All surfaces Block Sanded again
Additional Coat Hi-Build Primer
Final Primer Sealer
Three coats red base Coat
Four coats clear coat
INTERIOR
Dashboard wood surface refinished with Burled Walnut veneer and multiple coats of Clear Coat.
Seats, Head Rests, Door Panels and dashboard surround all covered with medium grey premium Naugahyde vinyl.
New light grey premium vinyl material installed in headliner area.
All interior floor and side surfaces covered with new black carpeting.
ENTERTAINMENT SYSTEM
PIONEER CD RDS Receiver - Model DEH-24UB with USB port plus AUX input jack
Front Speakers – DB DRIVE #5340 4" 2-way Speakers
Rear Speakers – ULTIMATE #T25021 5" 2 way Speakers
---
1974 TVR 2500M
Posted:
26 October 2014
Serial #: 2838TM
Price:
$14,750
Location:
Oregon
Contact Info:
John
Description:
Good examples of these earlier models are now hard to find. It is a trophy winner [included] and originally came with T wheels, and these are included also [not in photos] It currently wears handsome new Dayton wire wheels. Has SUNROOF. Recent two-tone nice paintwork. Good condition original interior. All maintenance up to date. Speedometer rebuilt; mileage was estimated at around 29K by previous owner. Tachometer recently overhauled too, but not hooked up due to the current electronic ignition; the old points setup is included with car. The previous owner also installed a superb oversize aluminum radiator and fan; car will not overheat under any conditions. Mechanical parts are TR6. Clear title, currently licensed. Runs strong, turns tightly. Storage ending, so must sell.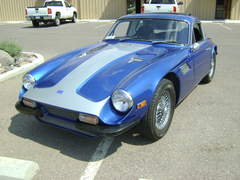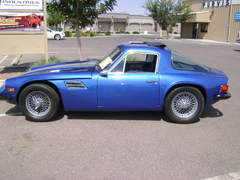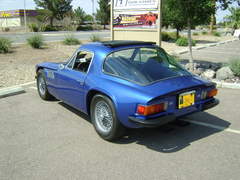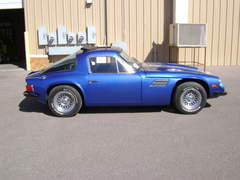 ---
1974 TVR 2500M
Posted:
4 July 2014
Serial #:
Price:
Best Offer
Location:
Newtown, CT
Contact Info:
Parris
Description:
1974 TVR 2500M for sale. Brown with black vinyl roof over saddle interior with tan carpet. Complete (as far as I know) including a set of undamaged T slot wheels. The car requires a total restoration. Car has had one owner since new (my Dad) and has approximately 50k miles (37k indicated, but speedo was broken for about a year while it was still in service). Looking for a new home - make us a reasonable offer and it is yours. I am advertising it for my Mom.
---
TVR 2500 Vixen/M Hybrid
Posted:
26 October 2014
Serial #:
Price:
$3,500
Location:
California
Contact Info:
Jody
- (831) 254-1299
Description:
Project car, but very solid base to start with. "Mostly there" and LOW miles.
---
1971 TVR Vixen 2500
Posted:
18 August 2014
Serial #: 1864T
Price:
$7,000
Location:
Colorado
Contact Info:
Karl
- (303) 423-1518
Description:
1971 TVR 2500 sn1864T (Round tube) complete but apart. Rebuilt trans, dif, chassis and suspension. Body completely restored and in sanding coat. All parts, additional triple Weber carb set up w/o linkage, painless wiring also included.
---
1970 TVR Vixen S2
Posted:
5 September 2014
Serial #: LVX16294
Price:
Reasonable Offer
Location:
Boston, MA
Contact Info:
Bill
- (508) 641-6414
Description:
86% restored.
All chassis components replaced with original parts.
Many additional parts/spares. Including spare tranny and extra rims.
New front and back glass.
New headliner.
New rugs.
All new window gaskets and weather strip.
Never seen snow.
Totally rebuilt motor.
All numbers match.
Body and chassis has less than 38K original miles.
No body damage. New paint. Never been buffed out since painted.
Silver/black with black interior.
Needs new blood to finish. I'm too old now. I have owned this car since 1975. Took it off the road in 1984 and started restoration.
---
Parts for Sale:
TVR Literature For Sale
Posted:
5 September 2014
Price:
$1,500 for lot, or will sell individually
Location:
Boston, MA
Contact Info:
Bill
- (508) 641-6414
Description:
All club newsletters back to 1976.
Variety of technical cross reference literature.
Original 1970 Vixen S2 owners manual.
Griffith Club of America newsletters circa 1977 to 1990.
Sales brochures for the following models.

2500M
5000M
Taimar 5000
New Griffith
Chimaera
S Series

English car club newsletters (Sprint) from 1981 to 1988
Will sell total collection as a lot for $1,500. Past issues or specific literature priced accordingly.
---
Late M & 280i Interior Door Handle Escutcheons
Posted:
27 July 2014
Contact Info:
Hayden Olenik
Location:
Sterling, VA
Description:
I tracked down a source of new old stock door handle escutcheons as used on the Reliant Scimitar SE6 (which are the same as the late M and 280i, still working on identifying the original donor). They're on their way from the UK, should have them in hand shortly. These are harder to find than hen's teeth, so if yours are cracked or broken completely then you probably want to pick them up before these are gone, I don't know if I'll ever be able to get more. Looking for $30ea, they sell in the Netherlands for €19.95 (~$27) ea and you still need to ship them over. Contact me now to reserve one (or a pair) before they get here. Will add photos once I receive them.
---
Assorted 280i Parts
Posted:
19 April 2014
Contact Info:
Hayden Olenik
Location:
Felton, DE
Description:
I purchased a 1985 TVR 280i Series 1 for parts a few months ago and have plenty of extras I don't need. Like-new black interior (everything but seats and carpet), doors, driver's side (LH) door glass, all body panels except hood & chin spoiler, suspension/brake parts, and more. Even have the original seats if someone needs frames to recover (seats were unfortunately left in the car and exposed to weather when the rest of the interior was stripped). Contact me if you're looking for something and see if I have it.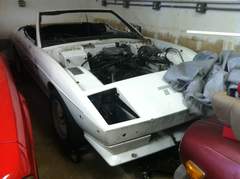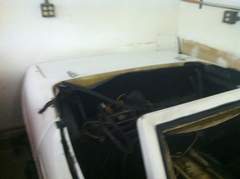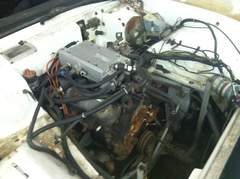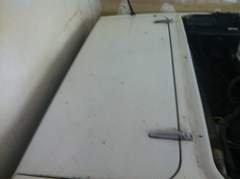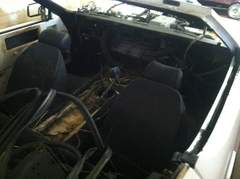 ---
Modine Radiator Upgrade for 280i
Posted:
6 October 2013
Price:
$150
Contact Info:
Hayden Olenik
Location:
Sterling, VA
Description:
I have a large Modine radiator that the previous owner of my 280i installed in the nose (my car originally had an upright radiator). I went back to the upright because I didn't have the overheating problem and wanted to re-install the charcoal canister that the previous owner removed, so this one is available for a 280i owner who is having overheating problems. Radiator comes with mounting brackets to hold it but I had to cut the (regular box steel) brace that ran the width of the nose between the brackets to remove it from the car. Ready for install in your 280i with very little work. Can send photos of the radiator installed on request.
---
Replacement Radiator & Shroud for 81-85 280i Series 1 and Series 1-1/2
Posted:
6 October 2013
Price:
$100
Contact Info:
Hayden Olenik
Location:
Sterling, VA
Description:
I picked up this radiator out of another 280i when working to install an original radiator in my car to replace the upgraded on a previous owner installed. I ended up with 2 radiators and didn't use this one. I had it cleaned and tested by Springfield Radiator in Springfield, VA and the radiator is in great shape. Radiator is not original so the shroud is a tighter fit than normal around the hose connections but works and could be clearanced to work perfectly. Ready for install in your car. Please note that this is the earlier radiator that mounts directly in front of the engine, not the later wide radiator that mounts up in the nose.
---
Griffith Parts Package
Posted:
1 September 2013
Price:
$3,500
Contact Info:
Phone: (613) 549-1516 | E-mail:
Dave Shannon
Description:
New Griffith hood, new Griffith hood badge, new original style exhaust headers, new clutch slave cyl, close ratio Toploader trans w/shifter, Salsbury limited slip diff, used rear hub carriers (2), Series 400 rear half shafts (3), flanges fro stub axles (2).
---
Wanted:
Wolfrace Alloy Wheel for TVR Vixen S3
Posted:
6 August 2014
Contact Info:
Tom
- Phone: (970) 310-5615
Location:
Fort Collins, Colorado
Description:
Like to purchase a TVR Vixen S3 Wolfrace wheel in good condition for my 1971 Vixen.
---
Black 280i Floor Mats
Posted:
4 July 2014
Contact Info:
Harris Sukenick
- Phone: (215) 275-4623
Location:
Nevada City, California
Description:
Original owner of Tvr Tasmin 280i Coupe. Looking for new car mats. My car is original cherry red with black interior. Of course left hand drive USA auto. They sell them in England but for right hand drive cars. Any ideas?
---
TVR Grantura
Posted:
10 March 2014
Contact Info:
Bill Snell - Phone: (530) 265-0479
Location:
Nevada City, California
Description:
Wanted: Grantura. Prefer CA car, non rusted daily driver.
---
1963-67 Griffith 200/400 or TVR Tuscan
Posted:
7 December 2013
Contact Info:
David Gilmore
- Phone: (913) 488-1459
Location:
Leawood, Kansas
Description:
I would like to purchase a 1963-67 Griffith 200/400 or Tuscan. Driver quality car is fine but I do want a rust free frame, original, correct numbers car. I am not looking for a huge project and would prefer the car be driveable possibly needing TLC. Restored cars considered as well if price is reasonable. I am not a dealer and am purchasing this for my own enjoyment. If you don't have a car for sale, leads and tips greatly appreciated. Thanks!
---
Griffith
Posted:
10 November 2013
Location:
Wayne, PA
Contact Info:
Mark Terlecky
- Phone: (484) 919-3528
Description:
Wanted: Griffith. I have always wanted one and now may be the time. I appreciate any assistance in finding one. Thank you.
---
TVR and Griffith Sales Literature
Posted:
10 November 2013
Location:
Wayne, PA
Contact Info:
Mark Terlecky
- Phone: (484) 919-3528
Description:
Wanted: Looking for TVR and Griffith sales literature and memorabilia from 1960's to 1980's. Private collector. Let me know what you have. Thank you.
---
3000S for Parts
Posted:
10 October 2013
Contact Info:
Vince
- Phone: (301) 407-9021
Description:
TVR 3000S convertible - basket case and/or body parts wanted.
---
TVR Vixen S2
Posted:
6 October 2013
Contact Info:
Fernando Licopoli
- Phone: (239) 288-1249
Location:
Fort Myers, FL
Description:
In the market for a Condition 3 TVR Vixen S2 (1967-1970) : a driver's car in presentable condition with no modifications to body. Will consider a condition 4 example if reasonably offered.
---