TVR Trader
Welcome to the TVR Trader, the classified ads for the TVR Car Club of North America. Listings in the TVR Trader are free of charge to TVRCCNA members. For non-members, the cost is $10.00 for 1 year of online listing and publication in 4 quarterly issues of the TVR Times. Contact Chuck Linn by phone at: (248) 652-9099 or e-mail tvrtrader@tvrccna.org with your ad content, or if you know any of the cars or parts have been sold. Paypal payments can be sent to tvrtrader@tvrccna.org or you can write a cheque payable to TVRCCNA and mail it to TVR Trader, 1610 Rolling Oaks Rd., Rochester, MI 48306.
Cars for Sale | Parts for Sale | Wanted
---
Cars for Sale:
2001 TVR Tuscan
Posted:
6 August 2016
Serial #:
Price:
CDN$54,995
Location:
Collingwood, Ontario Canada
Contact Info:
Ken
Description:
This TVR Tuscan is a 2001 in GTS Viper Blue 4 liter inline Speed Six engine. If you know what this car is, you know what their reputation is. They are a brutally fast, extremely beautiful drivers car. No airbags, no traction control, no stability control. Just you, 4 wheels and almost 380hp in a 1100kg car. It is not for the faint of heart, or for those not prepared to be stopped in the street and photographed. It has been meticulously maintained over her life and includes:
Recently installed discs & Rotors
New Pirelli P-Zero tires
Upgraded Nitron adjustable shocks
Engine rebuilt in a few years ago
New interior installed 2013
Momo steering wheel
Hood access mod
Anderson jumper connector mod
KPH Speedo conversion
It is a Ontario plated car, so has already been through her safety & emissions. More importantly, it is here and available to be seen and driven. Additional photos available
here
.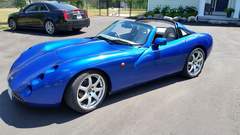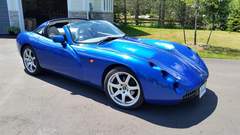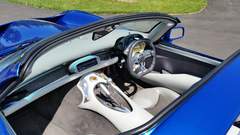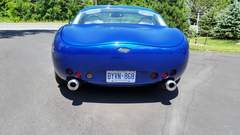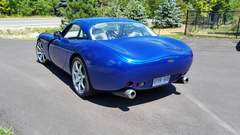 ---
2000 TVR Tuscan
Posted:
25 May 2016
Serial #:
Price:
$40,000
Location:
UK (price includes delivery to any UK port prior to export)
Contact Info:
David
Description:
A wonderful Tuscan with the well-known Racing Green FFF-2 Head and Simplex timing chain (very high reliability increase). Engine completely rebuild with all new bearings and wearable parts in 2013 with 36786 miles on the clock at a cost of almost £10k. Puts out 390bhp. Also had complete re-spray including Anthracite wheels at the same time. Interior is in good condition but not yet renewed (was to be next project). Has been carefully run in over the last two (short) summers. Mileage now 39064. You won't find a more mechanically reliable Tuscan or a more beautiful TVR model. Car currently has 39,064 miles on it.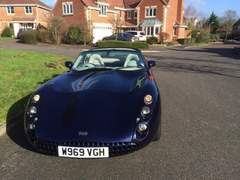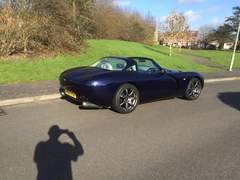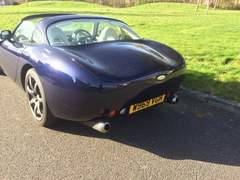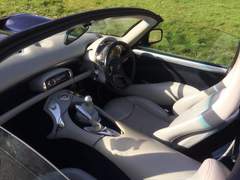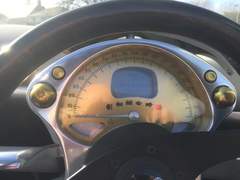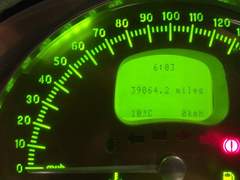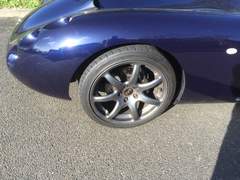 ---
1987 Tasmin 420 SEAC Motor Show Car
Posted:
15 January 2016
Serial #:
SA9DH35P9HB019406
Price:
£26,000obo
Location:
Worksop, Nottinghamshire, UK
Contact Info:
Richard Parker
- +441909506690
Description:
420 SEAC 1987 Motor Show Car. Wild Rover from Car magazine May 1988 and featured in many other books. A rare opportunity to obtain a piece of TVR history. Only 23000 miles from new. Immaculate original condition. Complete engine overall in 2009 by V8 Developments. Stainless steel manifolds and exhaust fitted at the same time. Metallic Green, tested to July 2016. Polished split rim OZ wheels, new roof and Wilton carpets. New rear shocks, discs and pads fitted 2014. Full history available, call for more details.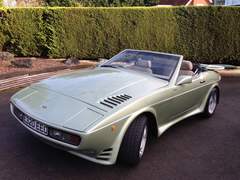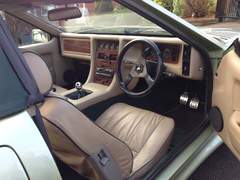 ---
1986 280i 5.0L Conversion
Posted:
15 January 2016
Serial #:
SA9DH28P6GB019155
Price:
Ask
Location:
Derry, NH
Contact Info:
Andrew (Drew) Estes
- (603) 498-9869
Description:
For sale: my 1986 TVR 280i. Pro conversion to Ford Mustang 5.0 V8 and T5 5 speed manual from the factory 2.8 V6 4 speed. This car was voted 'Best Modified TVR' at the 2010 TVR Car Club gathering. It has had a respray of the TVR bright yellow paint and the paint is still glossy. The black canvas top looks great and the black leather interior is good - All her electrics work fine. The wood trim is in great shape, I added a replacement mono steering wheel of matching wood. Some small niggles remain - a slight crack in the front spoiler, not usually seen unless you're kneeling - and a small seam split in the leather of the passenger seat base center panel. The power antenna was removed and the opening blocked with a chrome piece, but the entire unit is included, an Alpine MP3/iPod player installed. A/C was dead weight and wasn't hooked up after the conversion, so I removed brackets and compressor and boxed it up. Brakes occasionally squeak if the car is not used in a while - she occasionally marks her spot on the garage floor. Good Yokohama tires, good carpet, etc. new windscreen recently. A modest spare parts hoard of 280i bits is available to haggle over. Some prior owner documentation exists. Performance is wholly improved over the stock V6 and 4 speed. It now has Torque to pull hard in any gear at any speed. Sound is excellent, a healthy rumble at idle but not oppressive on long rides. Handling is same as the V6, The car is easy to maintain and has been reliable over my entire ownership (since 2007), purchased from Wirewheel- I'll pass it to next owner slightly better than when I received it, without it having broken the bank. Success! For ease of selling - I have put the car on consignment at Dusty Old Cars in Derry, NH. They are able to offer financing, display, storage and shipping. Their website is an enthusiasts candy store. They have hundreds of pictures and a few videos of this car (and every car they sell)
http://www.dustyoldcars.com
then search inventory by make for TVR. DOC has the documents file, manuals, some old but good parts, etc. The listed price there is 'asking' and is negotiable, contact me directly if serious - as I am the owner and can answer questions that they probably cannot.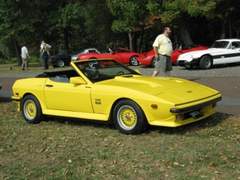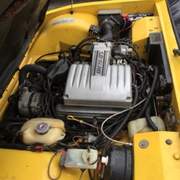 ---
1979 TVR Taimar
Posted:
26 December 2016
Serial #:
4365FM
Price:
$29,995
$27,850 for TVRCCNA Members
Location:
Tampa, FL
Contact Info:
John Hayes
- (813) 501-1630 (showroom), (727) 688-1148 (cell)
Description:
1979 TVR Taimar 2dr, hatchback, sunroof. Excellent Condition. Original owner. Garage kept. 31,000 miles. Custom Chrome Illusion Dupont paint design blend (British racing green to purple and gold, turquoise). Chrome bumpers. Blue Halogen headlights. Ford Essex V6, 4 speed manual transmission. Bosch performance fuel pump. custom built fuel tank, Lumenition Ignition system. Nology performance sparkplugs & copper grounded wire leads. Beige leather interior, new carpet and jute sound barrier. A British Classic Must See. Currently on display at Street Side Classics. Additional information and photos can be seen
here
.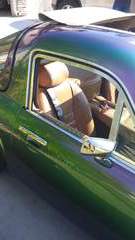 ---
1979 3000S Convertible
Posted:
10 April 2016
Serial #:
4390FM
Price:
$32,500
Location:
Northern NJ
Contact Info:
Jonathan
- (201) 417-6866
Description:
1979 TVR 3000S - A unique opportunity to purchase one of only 258 convertibles built. Finished in the original factory white. Only 29,000 miles from new. Same owner for past 24 years with only 3,300 miles covered during that period. Always garaged, never used in the winter. Full ownership and service history from new. This car was once owned by Kent Martin who modified and upgraded many of the original build shortfalls, including adding a custom made tonneau cover. No expense spared during the past 24 years including new tires, windshield, carburetor rebuild, fuel lines, rear brakes, exhaust system, stereo and speakers.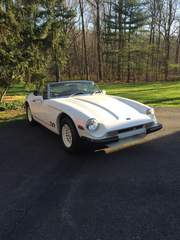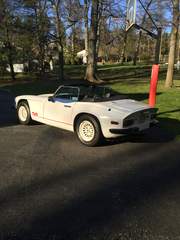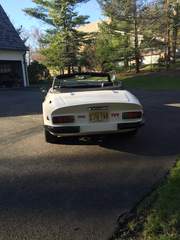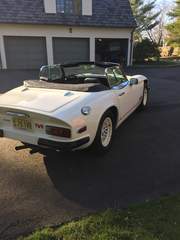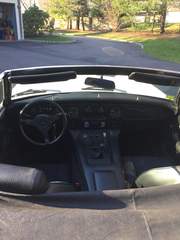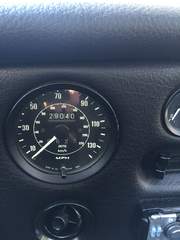 ---
1978 3000S Convertible
Posted:
5 September 2016
Serial #:
4586FM
Price:
$24,500 OBO
Location:
Nashville, TN
Contact Info:
Ed
- (615) 414-8280
Description:
TVR 1978 3000S, 4586FM. LHD. Third owner (2000-date). Runs great- driven weekly, New Dupont Chroma Premier paint, New Windscreen, carpets, Spax adjustable shocks and springs, Stainless Steel Exhaust system, powder coated exhaust headers, Rebuilt radiator and heater core, New Water pump, New Tires (205/70-15), Rebuilt Weber 38DGAS, Halogen headlamps, New tie rod ends and ball joints, Books and records, EU and US registration. Good top and side curtains. Original build sheet from David Gerald. 73k miles. More photos available, serious inquiries only, please. Many spares with purchase.
---
1974 TVR 2500M
Posted:
25 January 2016
Serial #:
3117TM
Price:
$21,000
Location:
Central NJ
Contact Info:
Paul
- (609) 410-3887
Description:
1974 TVR 2500M VIN#3117T. Purchased from original owner completely dissassembled. All suspension and frame blasted and coated with POR. All new bushes and suspension links, brakes including lines. New tires on original wheels. BMW engine, M50TU (192hp) is installed with it's original fuel injection and 5 speed gbx. New interior and carpets. 500 miles since completed in fall of 2013. Fresh paint.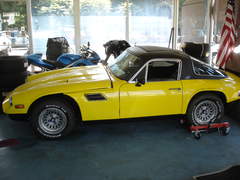 ---
1973 TVR 2500M
Posted:
8 January 2017
Serial #:
Price:
US$2,800
Location:
Ontario, Canada
Contact Info:
Harry
- (705) 435-2223
Description:
1973 TVR2500M, US origin. Candidate for either complete restoration, race car, or V8 conversion. Solid chassis and body with fiberglass bumpers. Cheviot 14" rims. All glass except rear window, no radiator. $2,800 US. Need storage space. Located in Ontario, Canada.
---
1968 TVR Vixen S2
Posted:
26 December 2016
Serial #:
Price:
$37,500
Location:
Eastern PA
Contact Info:
Bob Seligman
- (631) 235-3765
Description:
1968 TVR Vixen S2 for sale. Subject of a thorough restoration. Custom alloy fuel tank with tubular steel "cage" for protection. Roll bar and metal panels added between outrigger and chassis for seat attachment. New wiring harness with many fuses and remote controlled battery shut off. I understand that TVR produced only 47 cars in 1968. Far fewer were S2's and a handful were LHD cars. This car was originally sold by Tom's Pit Stop in New Jersey. Very early S2. "Sausage Bonnet" wood dash and toggle switches. All suspension arms, uprights, bearings, bushes and dash replaced. Chassis from a 1969 Vixen rebuilt by Powerslide Motorsports and powder coated. Original engine and transmission and differential rebuilt. New Koni shocks. U joints, and rear "half shaft" flanges replaced with new. I found parts for this restoration in the U.S. and UK that were considered unobtainable. All parts rebuilt and refinished to a very high standard. No expense spared. Painted the original Ford color Saluki Bronze. Five new wire wheels. Date stamps on photos are incorrect, more photos available by e-mail upon request. Serious buyers only. Original fuel tank and other original parts go with the car.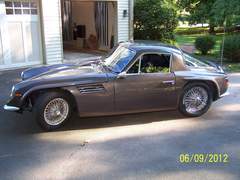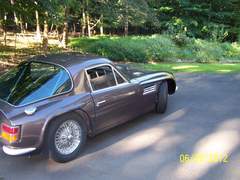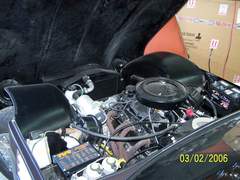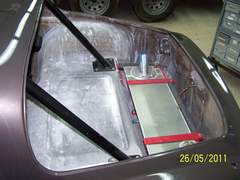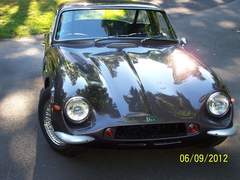 ---
1967-68 Vixen S1
Posted:
19 June 2016
Serial #:
VX195F
Price:
$38,000
Location:
New York
Contact Info:
Mike Downing
- (845) 901-6161
Description:
1967-1968 TVR S-1 VIXEN, VIN# VX195F OD: 69,317
Left hand drive
Ford Crossflow 1600 engine with 711M block
Bored 40 over, decked 40
Steel head gasket
Forged racing pistons
Double valve springs
Kent 234 cam
Double Weber 40 side draft carburetors
14:1 compression
170 horsepower
171 lbs torque
New clutch, flywheel, pressure plate
Throwout bearings
Headers
Distributor converted to electronic ignition
New oversized radiator
New heater core
New brakes
New tires
Wire wheel with original spinners
Braided brake hoses
Exotic wood inlay dashboard
Original quilted black leather interior no cracks
Racing steering rack
Solid chassis, no rust
Driver runs on pump gas not racing fuel
Original radio
Needs paint
Lots of spare parts
TVR S-1 Vixen is an extremely rare car, with 117 built with 47 of them left hand drive. Best remembered by the TV show "The Saint" and driven by Roger Moore in some of the episodes. Vixen was named because TVR had acquired a line of credit from Ford UK that had been moved from the MG engine to the Ford Kent 1600 Cross-Flow engine, producing 88 hp with vehicle weight of 1600 lbs. In subsequent years 289 cubic inch Ford engines were used as an option for increased horsepower. Unfortunately, it adversely affected the balance and handling of the car. The S-2 chassis was made longer to overcome this problem, and the S-3 was made longer yet, still trying to overcome the problem. Marketed with larger doors for easy access the Vixen series has ended, never achieving the handling of the S-1.
Different approach: This TVR has the Kent 1600 Cross-Flow engine (also known as Formula 1 racing engine). My approach has been to increase horsepower and torque without changing handling and weight distribution. With Weber 40 side drafts, Kent 234 cam oversized valves, double valve springs, bored 40 over, depth 40, forged racing pistons, and moving the original 9:1 compression to 14:1 compression yields 170 horsepower with 171 pounds of torque with no change in handling or weight distribution. I have listed all new parts on this vehicle, other spare parts also available at additional cost.
Serious inquiries only.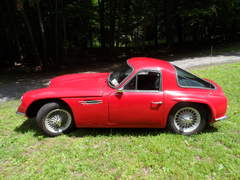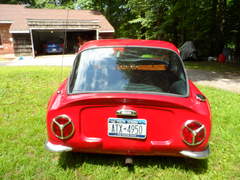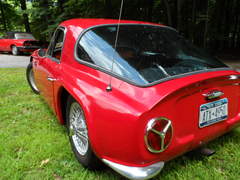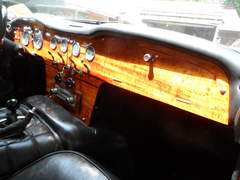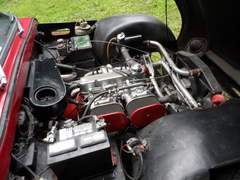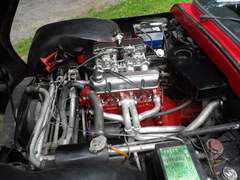 ---
1967 TVR Grantura 1800S
Posted:
5 October 2015
Serial #:
Price:
$39,500
Location:
Romania
Contact Info:
Alex
Description:
Very rare 1967 Grantura 1800 S, Mk IV LHD, Tartan red with Black Interior. Car is in Europe, in very good technical condition, rustfree chassis, super body and very a nice paint, new glass all around ( door windows and windshield), new chrome, overhauled brakes and suspension, overhauled carbs, perfect running MGB engine, OD gearbox, new bespoke wiring loom, new carpet, black vinyl interior with original TVR sport seats. More details and pictures are available upon request. Can arrange shipping to US from Rotterdam.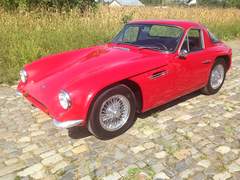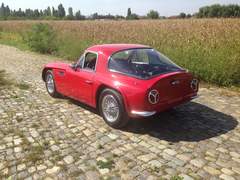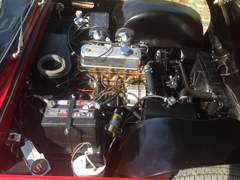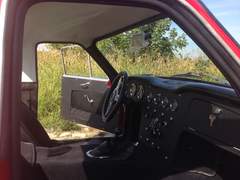 ---
1964 TVR Grantura Mk3
Posted:
5 October 2015
Serial #:
Price:
$49,000
Location:
Romania
Contact Info:
Alex
Description:
Very rare and hard to find, 1964 TVR Grantura Mk 3, LHD, Riviera Blue with Black Leather interior, in perfect restored condition. Former US car, VIN 9/xxx, currently imported in Europe ( FIVA originality card), has a rustfree chassis, 5 bearing MG 1.8l fastroad engine, 135 BHP, prepared by MG Motorsport in UK, X - flow head, double 45 webers, OD gearbox. AVO coil-overs, new chrome wire wheels, new tyres, new bespoke wiring loom, new alloy tank. More details and pictures are available upon request. Can arrange shipping to US from Rotterdam.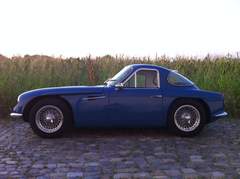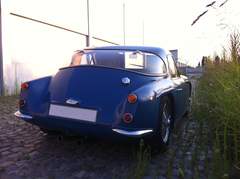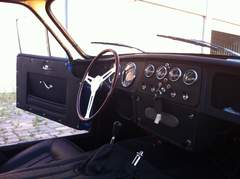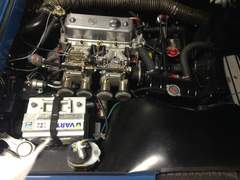 ---
Parts for Sale:
TVR 3000M Engine & Transmission
Posted:
8 January 2017
Price:
US$100
Location:
Ontario, Canada
Contact Info:
Harry
- (705) 435-2223
Description:
TVR 3000M Ford Essex V6 - 4 speed transmission, good condition $100 US. and re-cored radiator, never used, $250 US. Located in Ontario, Canada 705-435-2223. Option to deliver to Carlisle in May 2017.
---
Gas Tank for 2500M
Posted:
6 August 2016
Price:
$25
Location:
Sterling, VA
Contact Info:
Hayden Olenik
Description:
I got this tank from another club member in a lot of parts I picked up, believe he said it came from a 77 2500M though it looks (and should be) the same as the tank in my 74. Tank is largely solid but has a few pinholes that need to be brazed/filled. Reportedly has not had fuel in it for more than a decade. Good chance to pick up a spare and have it patched and lined without taking your car off the road.
---
71 TVR Vixen 2500 Clutch & Brake Pedal Assembly
Posted:
19 June 2016
Price:
$30
Location:
Camarillo, CA
Contact Info:
Terry Stewart
- (805) 482-0322
Description:
I would like to offer the original clutch and brake pedal assembly from our '71 2500 to club members. We changed to Wilwood double master-cylinder braking with balance bar for track braking and removed the original setup. I checked the shaft/bushings interface for wear and found NO slop. It seems to be perfect.
---
Wanted:
TVR Vixen Series 3 or Series 4
Posted:
7 October 2016
Location:
Virginia
Contact Info:
John Brawley
(206) 909-6685
Description:
Wanted -- TVR Vixen Series 3 or 4. No projects,stock or mild modification is ok, V8 conversion if done correctly would be great.
---
Two to Four Nice Gemini Wheels
Posted:
5 September 2016
Contact Info:
Jim Vogel
(330) 212-7296
Description:
Wanted - Two to four nice Gemini wheels. Have other wheels to trade if interested, or can buy outright.