TVR Trader
Welcome to the TVR Trader, the classified ads for the TVR Car Club of North America. Listings in the TVR Trader are free of charge to TVRCCNA members. For non-members, the cost is $10.00 for 1 year of online listing and publication in 4 quarterly issues of the TVR Times. Contact Chuck Linn by phone at: (248) 652-9099 or e-mail tvrtrader@tvrccna.org with your ad content, or if you know any of the cars or parts have been sold. Paypal payments can be sent to tvrtrader@tvrccna.org or you can write a cheque payable to TVRCCNA and mail it to TVR Trader, 1610 Rolling Oaks Rd., Rochester, MI 48306.
Cars for Sale | Parts for Sale | Wanted
---
Cars for Sale:
1986 TVR 280i
Posted:
19 April 2014
Price:
$8,450
Contact Info:
Paul Bennett
- Phone: 317-523-0020
Description:
For Sale: 1986 TVR 280i. Silver with blue leather interior. An always garaged 3 owner car with 30,000 miles on the clock that has been a winner at TVRCCNA concours events in the past. The car is in excellent condition having been cossetted it's whole life and comes complete with a full sized spare, a space saver spare and an indoor car cover that fits perfectly. I purchased it in Spring 2011 from a local TVRCCNA member and am selling it reluctantly due to the recent purchase of a Jaguar F-Type and my inability to convince myself that I need 2 convertibles. It is in excellent condition mechanically save for the air conditioning compressor that requires replacing. The blue leather is superb and the roof fits nice and tight. Sensibly priced and great value wind in the hair classic motoring for the summer. First to see will buy. Email or call with any questions. $8450 or nearest offer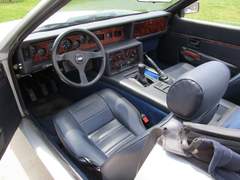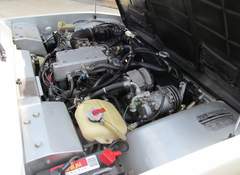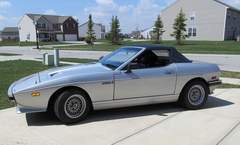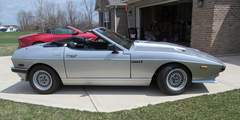 ---
1986 TVR 280i Series 2 and 1984 TVR 280i Series 1
Posted:
23 March 2014
Price:
$4,000
Contact Info:
Barry Rowe
Location:
Central Illinois
Description:
2 TVR280i parts cars:
1986 280i series 2. Body rough with right side crazed. "Cream" color, tan interior, good engine, good 4 speed trans, good suspension, broken windshield. Mostly complete original interior needs work. Frame has some rust problems. Complete top. 5 good wheels with good tires. Clear title.


1984 Tasmin 280i. Good body but needs paint. Good frame and suspension. No engine, good 4 speed transmission mostly complete original interior. No top, no passenger side window, no windshield. No front spoiler nor rear facia. No title. 5 good wheels with good tires.
I want to sell them as a pair, but might be talked into selling them separately. I had meant to put them together in 1 car, but have too many projects.
---
1985 TVR 280i
Posted:
20 January 2014
Price:
$9,995
Contact Info:
Peter Sweeney
- Phone: (860)350-1140
Location:
Gaylordsville, CT
Description:
1985 TVR 280i blue with a blue interior. 50,000 miles. Manual transmission. High quality professional repaint and interior redo with glass rear window. Excellent cosmetic condition. Very strong running car. Feels great on the road. Complete owners manual set. More photos can be found at:
www.forzamotorsports.com
. Located about 75 miles north of New York City in Northwestern Connecticut.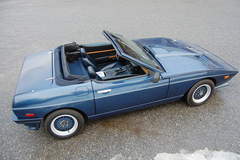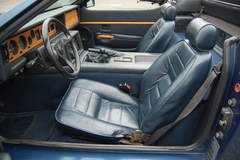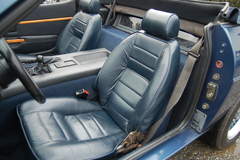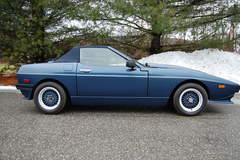 ---
1985 TVR Tasmin 280i in excellent condition. Engine number 1516:Body code 333H
Posted:
15 December 2013
Price:
$10,250
Contact Info:
Mark Ospala
- Phone: (201)724-3914
Description:
Unmolested original condition. Everything works including the air conditioning. This lovely TVR runs well and starts easily. Was somewhat dormant over the last 4 to 5 years having only covered around 500 miles during that time. Since I purchased it, I have driven it regularly whilst doing some of the work described below. The more I drive it, the better it gets! It has the targa top configuration where the main rigid top can be removed and stowed in the trunk with the cover (in great shape) and either leave the rear section up to minimize wind or lay it down as a full convertible. The rear window in is excellent clear condition. The stereo installed is a late 80's vintage top end stereo with serious speaker and a woofer (which I have not yet tackle diagnosing why it doesn't work). The stereo works anyway on the two rear mounted speakers. The wood dash over the instruments and glove box is in very good condition with some minor surface cracks on the glove box door only. It is equipped with a/c and it works! Has electrical system cut off for use when car is not in use.
Recent work - replaced handbrake lever, now fully operational; replaced clutch slave cylinder; new fuel filter and fuel accumulator, new speedo cable, newlight switch Still to resolve - grounding for temperature gauge and dash boardlights. the carpets need replacing and I am waiting delivery of the new carpet set that I will include with the car for the new buyer. Paintwork is in excellent condition with few minor blemishes/nicks. The front spoiler on the passenger side will need minor repair. This TVR is comfortable and has been proved reliable since I have owned it. My last trip was to a car show about a hundred miles away and it cruised beautifully and returned 25 mpg. I am British and have always had passion for TVR's and this is my second one. The only reason for selling is that I have too many cars and need to focus on finishing the others that came before this car and the money from this will fund those other items. Thanks!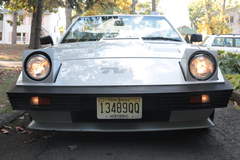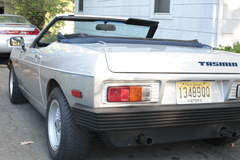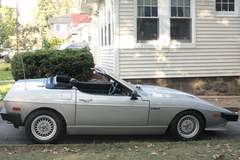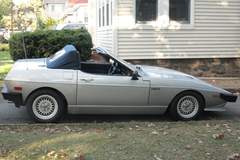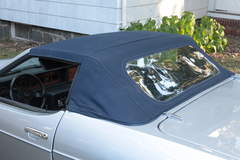 ---
1985 TVR 280i
Posted:
1 September 2013
Price:
$7,000
Contact Info:
Scott Bamford
- Phone: 716-689-9655
Description:
1985 280i, convertible, 4-speed, white with black top, red leather interior, 35,400 miles, good condition, runs great, second owner (25 years), $7,000 or best offer.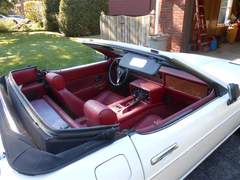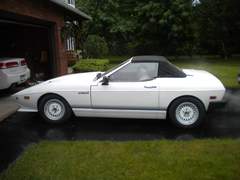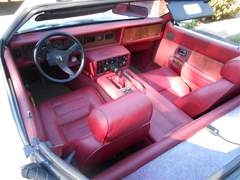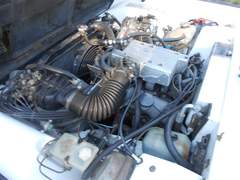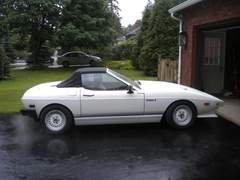 ---
1985 TVR 280i Series 1-1/2
Posted:
6 October 2013
Serial #:
TV9RF28P8FBDH1324
Price:
$6,500
Location:
Sterling, VA
Contact Info:
Hayden Olenik
Description:
I'm considering selling my 1985 TVR 280i Series 1-1/2. I purchased the car in 2009 from Florida to drive while I finished my 2500M and the car ended up needing a bunch of work to be safely driveable. I've performed extensive repairs to the electrical system (replacing burnt/melted wires, cleaning switch contacts, and adding central locking), TVR factory-certified (from back when TVR sold cars in the US) mechanic Jesse Bogan went through the mechanicals, and I put new 205/75R15 tires on the original (rare!) 15" rims. At this point car is mechanically sound other than non-functional A/C (A/C was removed when I bought it but I have all of the parts to reinstall other than hoses and a moisture separator), and the car is due for paint and trim. Unfortunately I'd rather spend the paint money on repainting my 2500M so I thought I'd see if someone else would like to pick up where I've left off. Currently has the original faded/oxidized red paint and a biscuit (tan) interior. I installed Miata seats to stretch out the life of the interior but I have the original seats as well. Car runs and drives great, ready for someone to take the next step to a finished restoration. Asking $6,500 firm (will keep the car for less).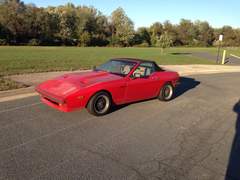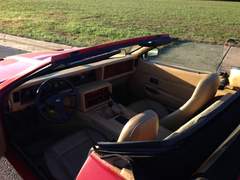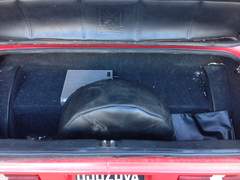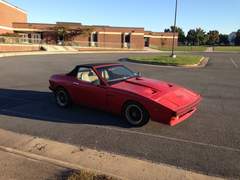 ---
1984 TVR 280i V8
Posted:
19 April 2014
Price:
$1,500obo
Contact Info:
Scott
- Phone: (904) 504-4140
Description:
1984 280i V-8. This was the first 280i V-8 conversion in the US. (BACK IN THE DAY 1990s) After conversion I drove the car for years without problem, attending several TVR shows in Bowie Md. I decided to repaint and restore, removed engine started restoration. I became ill and must now sell as I can't finish the project. This 280i body was upgraded in 1991 to a 350i body nose and rear with 350i springs and shocks. Gold in color, paint has a dozen small blisters on nose and trunk due to moisture and heat while covered, a good paint man could match. Mocha Top in good shape except glass, (can be restitched) but I would replace glass. Wood dash is out and partially redone I have walnut vernier to complete. Wiring is in place all lights gauges etc. working fine. Seats will need to be recovered or replaced. Remainder of upholstery in good shape. The engine was sold separately and so car has no drive train. Drive shaft is complete. Car just needs Mustang 302 with 5 speed transmission to complete. Car has a custom 4 core radiator car never ran hot even in summer traffic with ac on. Rims outer lip polished and look great. Have extra new and used parts. Upholstery, gas shocks, Momo oak wheel etc.
---
1983 TVR Tasmin 280i (European Spec)
Posted:
19 April 2014
Serial #:
SH9TA13A2DBDH1056
Price:
$3,000
Location:
Felton, DE
Contact Info:
Hayden Olenik
Description:
My father purchased this 1983 TVR Tasmin 280i convertible as a "barn" find (actually, someone's backyard). Car is largely complete but requires more work to get it back on the road than I have time to do for him. The main problem is that the electricals are filthy—I've pulled apart about 1/3 of the connections, switches, etc and every one is tarnished which has presented as numerous electrical issues. Mechanically the car is largely complete: car supposedly ran when parked and when I got into it the car was missing the fuel accumulator next to the fuel pump (which probably resulted in parking the car). At this point I've checked the tanks (clean), fuel pump, and replaced the accumulator but can't make more progress until the electricals are cleaned. Body is in decent shape— paint should clean up nicely except for some flaking and minor damage on the front bumper, along with a large split in the front spoiler that should be easily fixable. Interior is in good shape, no major tears and a previous owner dyed the original tan interior black. Car has a new soft top that hasn't even been installed yet. Asking $3,000, the car should easily be worth $4,500 or more once it's running even without a repaint.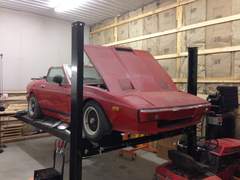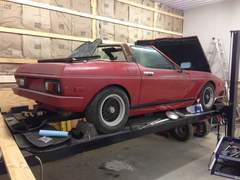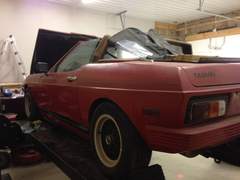 ---
1981 TVR Tasmin Convertible
Posted:
12 January 2014
Price:
$20,000
Contact Info:
Raymond Nichols
- Phone: (250) 390-1134
Description:
I have a 1981 TVR Tasmin I want to sell. The second car built in July of 1981. Euro spec 2.8 litre German Ford engine. Bosch fuel injection, 160 HP, also lighter than the US spec cars. Excellent Michelin tires on special rims, also have the original set, glove soft leather seats, Solid mahogany trim inside. Great car to drive.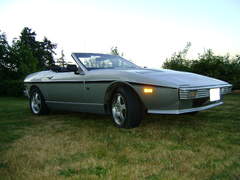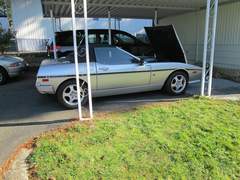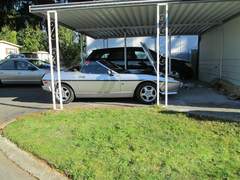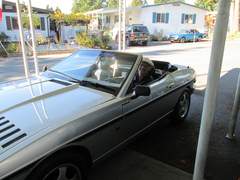 ---
Parts for Sale:
Assorted 280i Parts
Posted:
19 April 2014
Contact Info:
Hayden Olenik
Location:
Felton, DE
Description:
I purchased a 1985 TVR 280i Series 1 for parts a few months ago and have plenty of extras I don't need. Like-new black interior (everything but seats and carpet), doors, all body panels except hood, suspension/brake parts, Salisbury differential with inboard brakes, and more. Even have the original seats if someone needs frames to recover (seats were unfortunately left in the car and exposed to weather when the rest of the interior was stripped). Contact me if you're looking for something and see if I have it.
---
Original M T-slot Wheels with Tires
Posted:
3 December 2013
Price:
$695
Contact Info:
Will Despard
- Phone: (831) 229-3237
Description:
Selling a full set (4) of original "t" slot mags made in 1978 for a Taimar or 3000M with center caps. These are the original wheels from the 1978 Taimar that was a show car and has always been garaged. Vredestein Sprint Plus tires (185 R14) are in excellent shape with under 500 miles. Wheels are in great shape as well with no major defects/dents/scratches.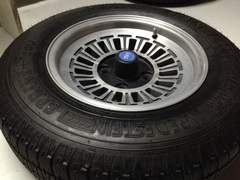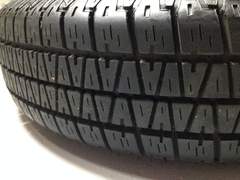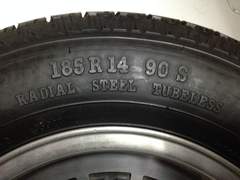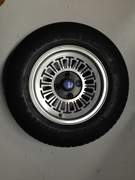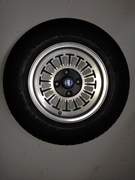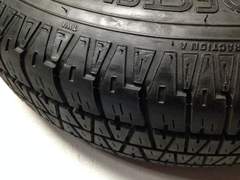 ---
Modine Radiator Upgrade for 280i
Posted:
6 October 2013
Price:
$150
Contact Info:
Hayden Olenik
Location:
Sterling, VA
Description:
I have a large Modine radiator that the previous owner of my 280i installed in the nose (my car originally had an upright radiator). I went back to the upright because I didn't have the overheating problem and wanted to re-install the charcoal canister that the previous owner removed, so this one is available for a 280i owner who is having overheating problems. Radiator comes with mounting brackets to hold it but I had to cut the (regular box steel) brace that ran the width of the nose between the brackets to remove it from the car. Ready for install in your 280i with very little work. Can send photos of the radiator installed on request.
---
Replacement Radiator & Shroud for 81-85 280i Series 1 and Series 1-1/2
Posted:
6 October 2013
Price:
$100
Contact Info:
Hayden Olenik
Location:
Sterling, VA
Description:
I picked up this radiator out of another 280i when working to install an original radiator in my car to replace the upgraded on a previous owner installed. I ended up with 2 radiators and didn't use this one. I had it cleaned and tested by Springfield Radiator in Springfield, VA and the radiator is in great shape. Radiator is not original so the shroud is a tighter fit than normal around the hose connections but works and could be clearanced to work perfectly. Ready for install in your car. Please note that this is the earlier radiator that mounts directly in front of the engine, not the later wide radiator that mounts up in the nose.
---
Griffith Parts Package
Posted:
1 September 2013
Price:
$3,500
Contact Info:
Phone: (613) 549-1516 | E-mail:
Dave Shannon
Description:
New Griffith hood, new Griffith hood badge, new original style exhaust headers, new clutch slave cyl, close ratio Toploader trans w/shifter, Salsbury limited slip diff, used rear hub carriers (2), Series 400 rear half shafts (3), flanges fro stub axles (2).
---
Wanted:
TVR Grantura
Posted:
10 March 2014
Contact Info:
Bill Snell - Phone: (530) 265-0479
Location:
Nevada City, California
Description:
Wanted: Grantura. Prefer CA car, non rusted daily driver.
---
1963-67 Griffith 200/400 or TVR Tuscan
Posted:
7 December 2013
Contact Info:
David Gilmore
- Phone: (913) 488-1459
Location:
Leawood, Kansas
Description:
I would like to purchase a 1963-67 Griffith 200/400 or Tuscan. Driver quality car is fine but I do want a rust free frame, original, correct numbers car. I am not looking for a huge project and would prefer the car be driveable possibly needing TLC. Restored cars considered as well if price is reasonable. I am not a dealer and am purchasing this for my own enjoyment. If you don't have a car for sale, leads and tips greatly appreciated. Thanks!
---
Griffith
Posted:
10 November 2013
Location:
Wayne, PA
Contact Info:
Mark Terlecky
- Phone: (484) 919-3528
Description:
Wanted: Griffith. I have always wanted one and now may be the time. I appreciate any assistance in finding one. Thank you.
---
TVR and Griffith Sales Literature
Posted:
10 November 2013
Location:
Wayne, PA
Contact Info:
Mark Terlecky
- Phone: (484) 919-3528
Description:
Wanted: Looking for TVR and Griffith sales literature and memorabilia from 1960's to 1980's. Private collector. Let me know what you have. Thank you.
---
3000S for Parts
Posted:
10 October 2013
Contact Info:
Vince
- Phone: (301) 407-9021
Description:
TVR 3000S convertible - basket case and/or body parts wanted.
---
TVR Vixen S2
Posted:
6 October 2013
Contact Info:
Fernando Licopoli
- Phone: (239) 288-1249
Location:
Fort Myers, FL
Description:
In the market for a Condition 3 TVR Vixen S2 (1967-1970) : a driver's car in presentable condition with no modifications to body. Will consider a condition 4 example if reasonably offered.
---