TVR Trader
Welcome to the TVR Trader, the classified ads for the TVR Car Club of North America. Listings in the TVR Trader are free of charge to TVRCCNA members. For non-members, the cost is $10.00 for 1 year of online listing and publication in 4 quarterly issues of the TVR Times. Contact Jeff Loss by e-mail at tvrtrader@tvrccna.org with your ad content, or if you know any of the cars or parts have been sold. Paypal payments can be sent to tvrtrader@tvrccna.org or you can write a cheque payable to TVRCCNA and mail it to TVR Trader, 3108 Fox Den Lane, Oakton, VA 22124.

Effective 30 March 2020, we will only accept up to 6 pictures for classified ads. Ads provided with more than 6 pictures will have 6 selected by the webmaster at his discretion.
Cars for Sale | Parts for Sale | Wanted
---
Cars for Sale:
1987 TVR 280i
Posted:
20 January 2021
Serial #:
Price:
$12,500
Location:
Detroit, MI
Contact Info:
Mike Martens
(586) 214-6453
Description:
1987 TVR 280i. Factory AUTOMATIC. 26,000 miles. Car has been stored in climate controlled storage for the last 13 years, but driven a couple weeks each year during the summer to keep bearings, seals, fuel system, ect. intact. AUTOMATIC transmission which IMO drives way better than a stick. (Based on the fact that this is my 3rd TVR- 2nd 280i). Team Dynamics Racing Wheels (have stock wheels and tires). Fully adjustable AVO shocks. Dual exhaust. White with Navy Blue top and interior. Never driven winters. VERY clean underside too. NO RUST. Very nice car, just needs a little attention.
Body and paint is in near perfect condition. Paint has never been touched. Car has NEVER been painted. NO rust on frame.
The seats could use new covers because the vinyl side panels have discolored and has some cracks in it but seating area are in great shape for 30 year old car. Rear window is not perfectly clean but not bad either. Most of the time the top is down so this is a non issue.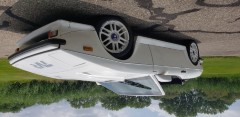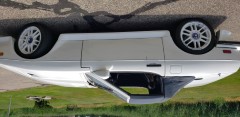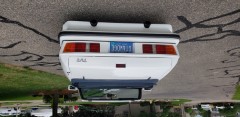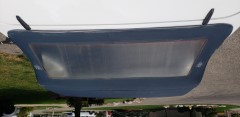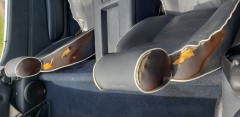 ---
Parts for Sale:
TVR S Wheels & Tires
Posted:
14 November 2021
Price:
$800obo
Location:
Raleigh, NC
Contact Info:
Paul Naslund
(919) 746-4321
Description:
4 JIL VIR wheels and Goodyear 205/60R15 tires, all in excellent condition. Pick up only.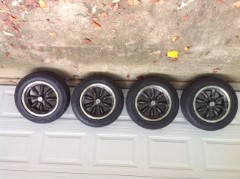 ---
15in TVR Revolution Wheels
Posted:
26 May 2021
Price:
$500obo
Location:
California
Contact Info:
Bill
(818) 519-1363
Description:
Set of four used 15x6 aluminum wheels manufactured by Revolution in England. Centers painted blue. $500.00 or best offer. F.O.B. Los Angeles, California area.
---
Wanted:
Rear Upright for Grantura or Griffith 200
Posted:
10 April 2022
Location:
Seattle area
Contact Info:
Evan Ross
- (360) 871-3296
Description:
Looking for one rear upright in good condition and intact. Pivot rod and brake backing mounting studs not necessary.
---
TVR Griffith or Chimaera
Posted:
26 February 2022
Location:
New York, NY
Contact Info:
Andrew Cheesman
Description:
WANTED - Any 430, 450, or 500 Griffith or Chimaera on this side of the Atlantic. Must be eligible for import to the US; preference for later year cars and/or an understated color combo!
---
2500M Inner Fender
Posted:
13 February 2022
Location:
South Lake Tahoe, CA
Contact Info:
Jay Hawkins
(530) 545-2188
Description:
Wanted 2500m passenger side inner fender.
---
TVR Grantura (Series 3, 1800/S, 62-67)
Posted:
20 December 2021
Location:
Madison, CT
Contact Info:
Ray Lewis
(203) 214-6241
Description:
WANTED –TVR Grantura Series 3 or 1800/S or whatever (62-67?). Please let me know what you have. I would prefer one as original condition as possible, but I'm flexible on that point.
---
V8 Griffith or Tuscan
Posted:
14 November 2021
Location:
Southeastern PA
Contact Info:
Mark Terlecky
(484) 919-3528
Description:
Wanted – TVR Griffith 200 or 400 or TVR Tuscan V8
---