Welcome!
Welcome to the internet home of the TVR Car Club of North America, a 501(c)7 non-profit organization chartered in the state of Ohio. We are an organization supported by dues paying members who are charged with promoting the TVR marque, driving our cars as often as possible, and having a good time doing so!
---
NEW ELECTION OF OFFICERS IS AT HAND!
It's time to get ready for elections for the 4 elected officer positions (President, Vice-President, Secretary, and Treasurer) in the TVR Car Club of North America.

This will be the first election held under our new constitution (ratified in 2010). In addition, we are looking to spread the Appointed officer roles (Regalia Coordinator, Membership Chair, Webmaster, TVR Times Editor, etc.) among more club members. The current constitution states that voting must take place at the Annual Meeting of the TVRCCNA, which will occur during the 2015 Out of the Woodwork Banquet on May 16, 2015 in Carlisle, PA.

Nominations: Elected and Appointed officer positions are self-nominated and a submission form is available here. Nominations will close March 31st. You can only nominate yourself for one elected position even though you can express interest in multiple appointed positions.

Voting: For members attending the meeting, they may vote in person. For members not attending the meeting, there will be an absentee ballot process. Ballots will be mailed to all eligible members mid-April, and need to be received by the Secretary no later than May 13th. Please note that in order to vote (either in person, or by ballot), you have to be a current paid up member for the 2015/2016 membership year – so please renew your membership in good time. Members attending the meeting may renew their memberships up until the commencement of the meeting to be eligible to vote. For members not attending the meeting, we will make every attempt to provide ballots to members renewing after the mid-April mailing, but to guarantee your ability to receive a mailed ballot, your 15/16 membership renewal must be received by the membership chair no later than May 1st.

Finally, the club cannot operate without the dedication of the volunteers who serve in officer roles, so we thank you in advance for your willingness to serve.

—Club Secretary, Andy Gear
---
Featured Photo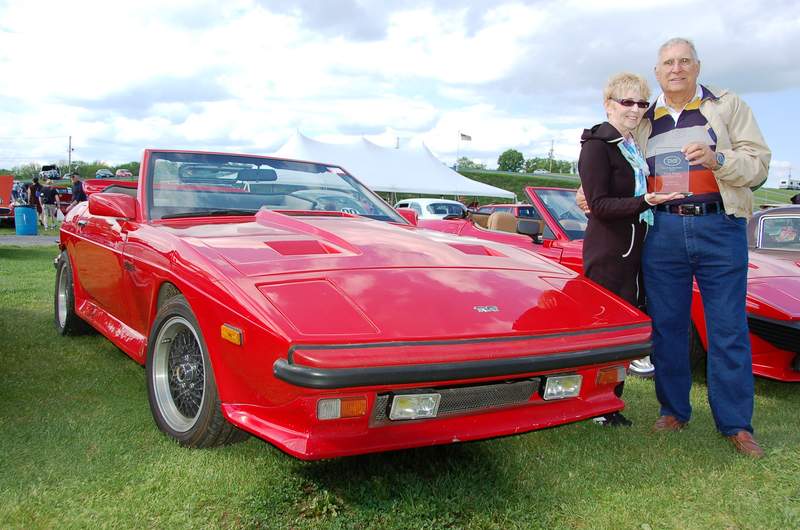 Bob Salem's award-winning EV-converted TVR 280i drag racer.

Have a car you'd like to see here? E-mail us a photo and the details.
---
So why do you have this page?
If you've found our page you're probably here for one of two reasons: 1) you're a TVR owner looking for a community of owners willing to help each other and have fun, or 2) you heard the name TVR or saw one and wanted to learn more about these rare British cars. If you're part of the first group, why not sign up for a membership and then check out our technical articles available to club members. If you're part of the second group, you can start with "What's a TVR?" and work your way through some information on the various models and history of TVR in North America. Either way, thanks for checking out our site and we hope you find what you're looking for.
---
President's Corner
Happy New Year everyone!!
I hope everyone had a great Christmas and New Year. It's only six months till Out of the Woodwork 2015. As usual we will be staying at the Park Inn in Mechanicsburg PA. If you register early for the show field, there is a discount. So now is the time to do it. Also the link for the hotel will be up on the web site shortly. To get the TVR Club discount you HAVE to register thru the link. The events schedule will be the same as last year. There will be a drive/tour on Friday (thanks Ben). Saturday is the big day for us the show field during the day and the banquet/auction at night. Don't forget we always need items for our auction. Also this year is an election year, so for those who want to fill the Club positions email the online form back so we can make up ballots.
On another note I have been in contact with TVR Ltd. (The new TVR company) and thru their public relations department and directly I have invited Mr. Les Edgar to be our guest at Out of the Woodwork 2015. Note that this is still pending as Mr Edgar is a very busy man. He should be trying to get TVR back on it's feet. So as news comes in it will be posted on the Facebook and Yahoo sites. I hope he can make it so he can see what TVR means to a bunch of Yanks and Canadians.
As usual if there is anything I can do for any of the membership, please let me know.
-Tony Hess