Welcome!
Welcome to the internet home of the TVR Car Club of North America, a 501(c)7 non-profit organization chartered in the state of Ohio. We are an organization supported by dues paying members who are charged with promoting the TVR marque, driving our cars as often as possible, and having a good time doing so!
---
Featured Photo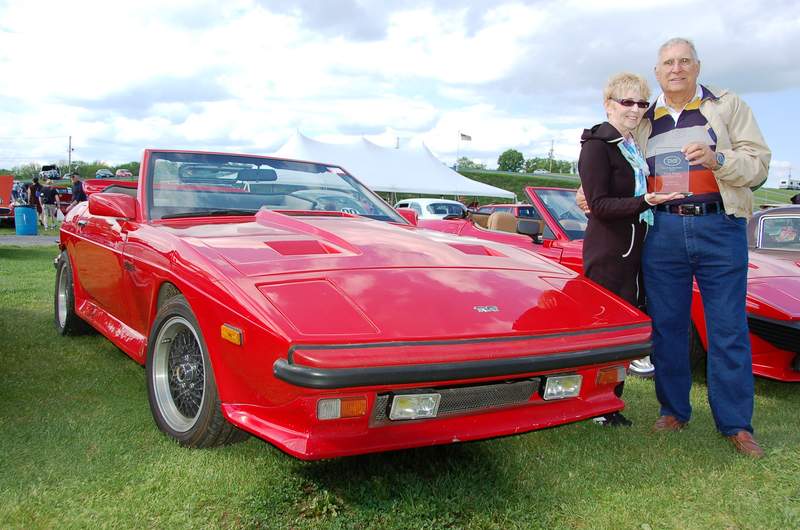 Bob Salem's award-winning EV-converted TVR 280i drag racer.

Have a car you'd like to see here? E-mail us a photo and the details.
---
So why do you have this page?
If you've found our page you're probably here for one of two reasons: 1) you're a TVR owner looking for a community of owners willing to help each other and have fun, or 2) you heard the name TVR or saw one and wanted to learn more about these rare British cars. If you're part of the first group, why not sign up for a membership and then check out our technical articles available to club members. If you're part of the second group, you can start with "What's a TVR?" and work your way through some information on the various models and history of TVR in North America. Either way, thanks for checking out our site and we hope you find what you're looking for.
---
President's Corner
Greetings TVRCCNA members,
Well the driving season is winding down for some of us in the colder climes. Actually this is the best time of year to get your TVRs out and drive them. In this part of the country the leaves are turning, the days are cool, and it's sunny. Great TVR weather. As some of you know Out of the Woodwork 2015 will be at Import Carisle again next year. We will be staying at the same hotel. Unlike other years at Carlisle there will be only fee this year for the show and that's the one for Carlisle Productions. The Club has waved the entry fee for members, There will still be a banquet fee. I am still working on getting a special guest for WW 15 but nothing definite yet.

There has been talk of a fall TVR event, not a Woodwork, just a informal gathering of TVR members. There is a group that will be taking point on this with the support of the Club. I don't know where it will be, so stayed tuned. Another thing it's almost time for elections. Look for other info in this issue of the Times.

I have been contacted by Hemming's Publications about an article they are doing on the 2500 Vixen and the folks at Classic Motorsports are still interested in doing the story on the TVRs that were at Carlisle in 2013. Well that's about it, If I can be of any help to anyone let me know, that's what I'm here for.
-Tony Hess